Today we announced something I'm pretty proud of.  Socialtext is now free for up to 50 users.  And we're finally taking SocialCalc out of beta. From the press release:
Socialtext
, the leading provider of Enterprise 2.0 solutions, today announced the availability of
Socialtext Free 50
, a new free offering aimed at mainstream use for up to 50 people within an organization to collaborate using Socialtext's social software platform. Employees can join or create their own private collaboration networks by using their work email address at Socialtext.com. In addition to the new free offering, the company announced the immediate availability of
SocialCalc
, the first social spreadsheet program that simplifies version control, reduces errors and increases productivity for distributed teams.
Check out Dan Bricklin's five minute screencast demo of SocialCalc:
For me, this is really a major moment. I finally can do the demo I've been wanting to do for years: A complete budget example with a rollup of 50 states into a country total, with each of the 50 states' pages dependent upon other pages with country-wide values (such as price lists and model factors), and each with a link to a wiki discussion page.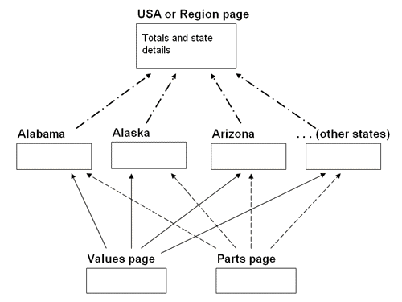 You can change a master model factor (such as default growth or default product mix) or a particular state's values (such as sales growth override value) and then load the USA or regional page and see them all recalculated to provide the latest totals.

Here's some coverage: