Power laws exist in complex systems where interdependence prevents equlibrium. There is no doubt that the forces of globalization and decentralization are increasing the amount of interdependence in markets. Perhaps no other market exhibits as much inter-dependence as venture capital. Venture rules of thumb acknowledge the power law indirectly: such as there is only room for three players in a market and you really only want to own #1 or #2. But consider the complexity when each of the following markets exhibit strong interdependence between and within themselves.



Public Equity Markets

Limited Partnership Markets

Portfolios

Private Equity Markets

Sectors

Stategic Investment/Alliances

Product Portfolios

Management

Commodity Markets

Power laws exist in each of these markets (even salary and employee performance) and we are just beginning to understand how to manage emergence. A recent article Strategy+Business article by Mark Buchanan (reg. req.) eloquently describes the literally emerging field of complexity management. Public Equity is just beginning to realize that traditional methods of managing risk based upon statistical probability fail to account for the extreme fluctuations.
Risk management has always learned from trial and error. Bets are made on models. A catastrophe like a heat wave in Chicago spikes the price of electricity a thousand fold, companies go bankrupt, new factors are discovered, the model is refined and liquidity increases significantly greater than before. The grand horse pucky of risk management was Long Term Capital Management, a massive rock star hedge fund that bet on convergence only to discover the spillover of the Asian currency crisis to Russian default and more. Since then, new models accounted for fatter tails and confidence in markets increased (till Enron, but that's a whole other story).
So say you are a VC, woke up one morning and realized that everything you practiced was wrong? Essentially that's what happened with the telecom and dot com bust. The fattest tail imaginable smacked everyone in the face. But still, not everyone has woken up. The structure of markets is fundamentally different from what most assume: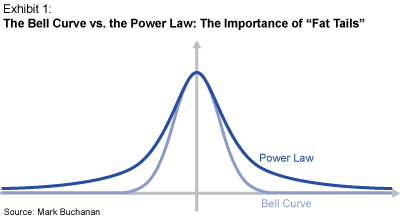 With this view, the world is flatter and the tails are fatter. The tail on the right is probability catastrophe, the one on the left is success beyond your dreams. If you still think that the world is one big peak, you probably missed investing in differentiated categories of the consumer Internet that are performing so well right now. I don't blame you (LPs won't either because of lowered expectations, but they are going to smack you with something greater than a tail if you keep sitting on their cash), as the public markets are just beginning to figure this out:


LTCM's risk management was appalling," says statistical physicist Jean-Philippe Bouchaud, CEO of the Paris-based hedge fund Capital Fund Management (CFM). CFM relies on ideas from physics to take power-law fluctuations explicitly into account when building investment portfolios and when calculating VaR. Typically, the contract between a hedge fund manager and an investor states that the latter has a 1 percent chance of losing something like 10 percent of the total invested value. The manager has to make sure that this estimate of 10 percent is realistic. "The power law is much better than the bell curve at establishing this risk," says Dr. Bouchaud. It is also better at helping hedge fund managers avoid the painful consequences of "unexpected" fluctuations."

I'm not writing this out of schadenfreude. The point is there is a great opportunity to re-evaluate how venture works. Private Equity earns its historically amazing 25% returns through long-term investing in a diverse portfolio. You invest in a diversified portfolio, and if one out of 10 has greater than 10x returns while the rest are losers, you carry yourself high as a winner! And if not, you get 2.5% just for playing.
The point is that if markets are more interdependent than you model (the Network is the Market), consider four strategies:



Greater diversification -- the easy one

Seek portfolio synergy -- the kiretsu approach is well known, but find ways of building synergy without compromising diversification. Build greater networks for the firm and within its portfolio (one example is Socialtext network for sharing best practices and leads)

Gain advantage from shared knowledge -- most of the information that could be used to a firm's advantage is kept in partner's heads. I am always amazed at how little venture firms eat their own dog food and support themselves with systems beyond isolated address books.

Real options -- okay, this is the real point. View and value every investment as an option and iterate as frequently as possible. Small EIR-level bets can turn into something big, and start the process of preferential attachment for the power law itself. Value beyond the linear projection of the initial product, but the economies of scope and span that can be realized (there is a similar point for operational and technology risk, but lets stay focused on market risk). Multiple exit points should be a premium. Go beyond discounting cashflow and use real options at least as a general framework for considering opportunities.

The above only applies to portfolio strategy, but also consider evaluating markets differently. The technology adoption lifecycle hasn't changed, it just may be flatter and
shifts faster
. This means there may be greater startup costs and a larger opportunity in the early adopter segment and you could time crossing the chasm too early.
The hardest part of being a venture capitalist today is recongizing the early patterns of emergence, some fall into viral metrics, but others don't. Its easy to write off early fanatical customers as innovators, but each segment is inter-dependent beyond reference with the others -- and fanaticism is transitive.
Aformentioned article also provides some advice worth considering:


The power laws of complexity science reveal that regularity and predictability are neither as regular nor as predictable as business leaders have come to believe. Power laws suggest that today's organizations, in following modern science beyond a misplaced fixation on predictability, face three closely related tasks:




To follow the financial and insurance industries in taking the "fat tails" of power law systems seriously. Expect change to arrive not gradually, in a way that will allow the organization to adjust in real time, but in sudden discontinuities of great consequence that reshape the business environment, bringing both dangers and opportunities.

To recognize that globalization and decentralization bring risks as well as rewards, and that more is sometimes different — that increased interdependence can create the conditions for "emergent" threats that are traceable to no specific element within the system.

To take note of the human element in efforts to become adaptable, in part by organizing practices to decrease "entrainment of thinking."




The last point deserves a little exploration, its the thinking of IBM's David Snowden:
Ideas and practices that have proven effective in the past become akin to accepted norms; they acquire inertia, and often for a very good reason. On-the-fly experimentation in the real world is a dangerous thing; hence, we naturally cling to ideas that have worked before. "We do this in order to survive," says Mr. Snowden.
To help teams deal with discontinuities, Snowden exposes them to them constant exploration (read: exploring options). Lots of companies have learned good things to help them surivive the last couple of years. But those same good conservative things may just as well be the end of them. Help them unlearn.
Good partners with good deal flow get lots of exposure to new ideas. But it is an asynchronous market and first pitches are the least revealing. When ideas are abundant and execution is scarce, the best information comes from working constructively with prospects. Even better, expose them to your network. Not just your trusted advisor buddy, but people from entirely different networks. In social network analysis is this is plugging structural holes, what you could call bridging communities, what creates the greatest value. When done right, this is a win-win regardless of the investment decision.
And with all this interdependence, why would you do anything that isn't a win-win?